Hi, I'm John. I used to write recaps at another Cardinals blog. John Fleming was kind enough to give me the opportunity to do the same thing here (and maybe some analysis as well – Lord help us all), and I'm very excited to be here. Thanks in advance for reading.
Pregame
The Cardinals are trying to avoid a sweep at the hands of the Pirates today, after a couple of frustrating games Friday and Saturday. Luke Weaver is likewise trying to put a pair of frustrating starts in the rearview today, as he faces off against 26-year-old, no-name-prospect-since-2010, finally-getting-his-MLB-debut non-prospect Nick Kingham. I follow prospects pretty closely and didn't know anything about Kingham, so I turned to Eric Longenhagen at the ever-invaluable fangraphs.com:
A spring ankle injury delayed the start of Kingham's season, but he likely wasn't ticketed for a full-season workload after throwing just 46 innings in 2016 while recovering from Tommy John. Kingham is a strike-throwing, big-bodied righty with above-average arm strength and fringe secondary stuff. His curveball shape is inconsistent but will miss the occasional bat, while his changeup is below average. Kingham is short of regular big-league projection because his secondary stuff is lacking, but assuming good health, he throws enough strikes to slot into a fifth-starter role in the right situation.
To give you a feel for Kingham's anonymity: Longenhagen had him at an honorable mention following a 28-man ranking list. John Sickels had him at 14, with the caveat that 12-20 were interchangeable. MLB.com had him at 12, but say, "It's been a long wait, but Kingham still has the potential to be a No. 4-type starter," which maybe says more about the farm system than the prospect.
At any rate, here are the lineups: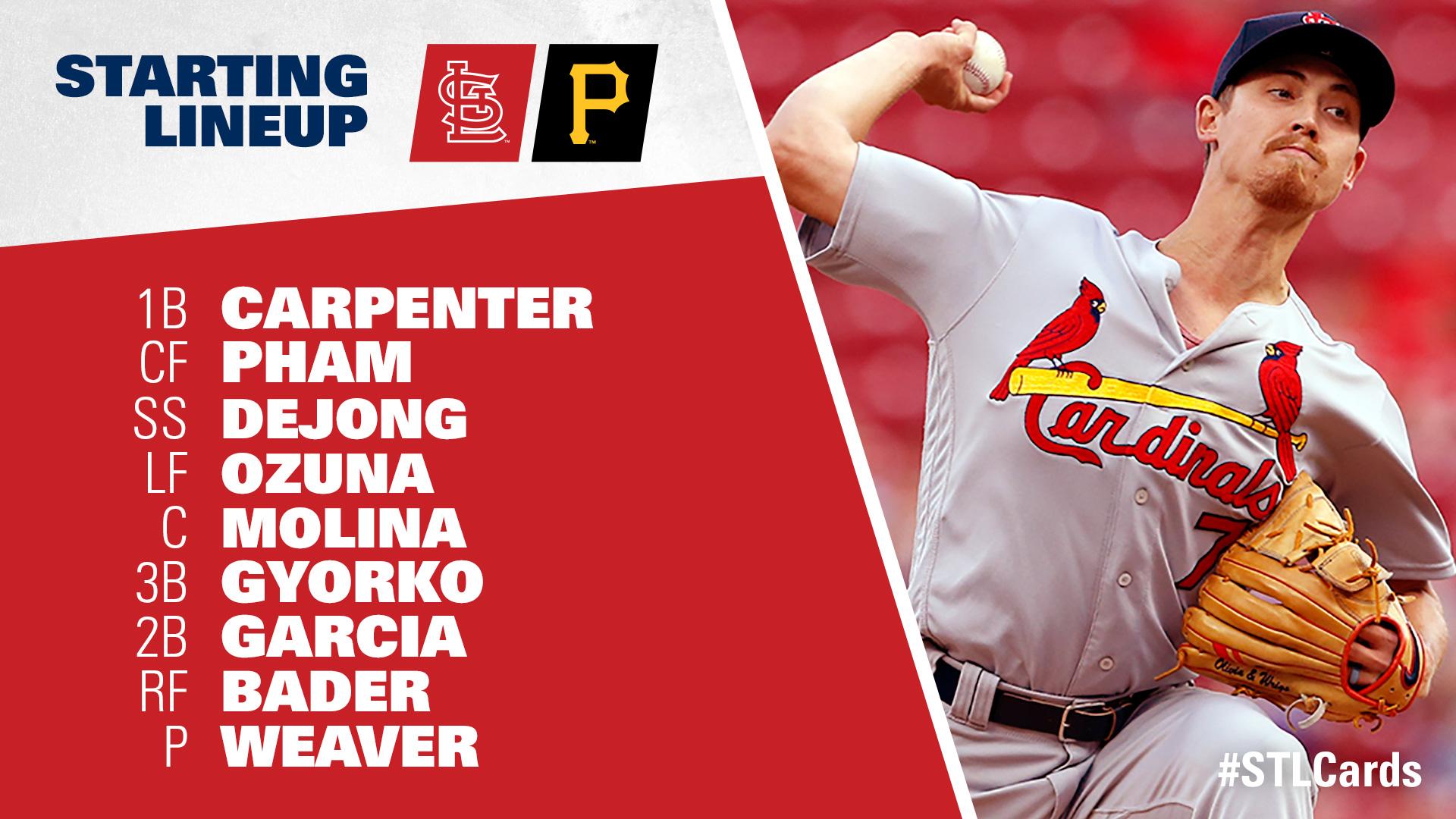 The Game
Hitting
Innings 1-7
The long and short of it: We really didn't hit. Kingham carried a perfect game through 6 2/3 innings, when wunderkind Paul DeJong poked a baseline-hugging grounder past Colin Moran down the third baseline. Kingham, without looking spectacular, racked up 7 IP with that lone hit, tallying 9 Ks and never really breaking a sweat. Of his 98 pitches, Kingham threw 72 strikes. He benefitted from a generous strike zone, and there were a couple of high-hit-probability batted balls that ended up as tough luck outs, but Kingham made the (good!) Cardinals offense look pretty silly overall. Kingham racked up a game score of 89, which is both good and probably deserved. Way to go, Nick, even though I hate you.
Inning 8
Michael Feliz took over for Kingham in the eighth. Yadi battled him for 15 pitches and then golfed this garbage over Jordy Mercer's head for a single:
Jedd Gyorko popped out for the first out, then Greg Garcia worked a full count and stung a 101 mph EV fliner to the RF track – 62% hit probability according to statcast – which Starling Marte tracked down (of course) for a double play, because Yadi was pretty sure it was a hit, just like me.
Inning 9
Kolten Wong hit a 1-out double off of Edgar Santana. Matt Carpenter struck out swinging (whaaaaat?), Tommy Pham walked, and Pauly D struck out looking at an 86 mph slider way up over the heart of the plate.
Pitching
Innings 1-5
Luke Weaver wasn't quite as efficient as the upstart Kingham. Then again, that seems pretty unfair, seeing as it's tough to be more efficient than "Perfect through 6 2/3." Then again again, you're Luke Weaver against the platonic ideal of "some guy." So maybe you have higher expectations, Luke. At any rate, Luke cruised through 5, striking out 6 to a measly 3 singles and a walk.
Inning 6
But the party bus became a struggle bus in the sixth, and then the wheels came off. With 1 out, Weaver gave up back-to-back singles to Starling Marte and Josh Bell, then unintentionally/intentionally walked Corey Dickerson on 4 pitches. Backup catcher Elias Diaz singled on the next pitch, driving in Starling Marte and Josh Bell and breaking up what had been to that point a splendid pitchers' duel.
Jordan Hicks came in and did that thing where he alternates between "does he know where that's going?" and "how on earth did they hit that?". Colin Moran singled on Hicks's first regulation pitch, a 95-mph sinker, driving in Dickerson. Hicks induced a 5-2 FC out of Jordy Mercer to prevent the run from scoring, walked Kingham on a full count, hit Adam Frazier with a pitch on a full count to score Colin Moran, and finally convinced Greg Polanco to put us all out of our misery by grounding out 4-3. Pirates lead, 4-0.
Innings 7-8
Greg Lukerson pitched a clean seventh. The other Greg, Greg Holland, Matheny's Very Expensive Desk Chair, took over for the eighth and failed to impress. Holland gave up singles to Diaz, Mercer, and Hometown Hero David Freese before inducing a flyout to right and striking out Polanco to staunch the bleeding. Freese's single scored Diaz. Our non-hitting top of the ninth, detailed above, sealed the deal. Pirates win, 5-0.
Postgame
Let's try to forget this happened. Cardinals take third place in the division with a Cubs win, and the Brewers are breathing down our necks. Standings don't matter this early, but I'd rather be in first than in fourth all the same.
Next game: Cardinals have Monday off, and take on the White Sox in Busch at 7:15 CT on Tuesday. Wacha vs. Big Game James Shields. Be there or be a quadrilateral of some undesirable species.