Pregame
Today, the Cardinals host the White Sox and try to complete the 2-game "sweep." The game starts at 12:15 local time. The Cardinals are going to have their second off day this week tomorrow, so let's hope for a win to launch us into the doldrums. (The blogosphere and Cardinals twitter is so much more bearable on off-days when they follow a win.)
Cards ace Carlos Martinez toes the rubber for the Cardinals, facing off against former Nats uber-prospect Lucas Giolito, who migrated to the Sox in the Adam Eaton trade. I'll assume you don't need an introduction for Martinez. Giolito struggled in his rookie season last year, but has picked up a little bit of velocity which had disappeared for awhile and seems to have improved his command as well, at least in the early going. The first time I saw the matchup, I thought it was pretty lopsided in our favor, but after digging a little more into Giolito, I lean more toward thinking this has all the makings of a quick, tidy pitcher's duel.
More broadly, the White Sox boast a ton of very young, very talented…. well, talent. They've dwelt in the AL Central basement for a few years, but with the Eaton, Chris Sale, and Jose Quintana trades, they've reframed their future. Yoan Moncada and Giolito were widely considered best-in-class prospects very recently, and Tim Anderson is putting together a solid year so far after disappointing in his debut. There are still massive holes in the roster and a lot of development left for the kids, granted. But for being so bad, they're sneaky good, and we'd better not sleep on them.
Here are the lineups: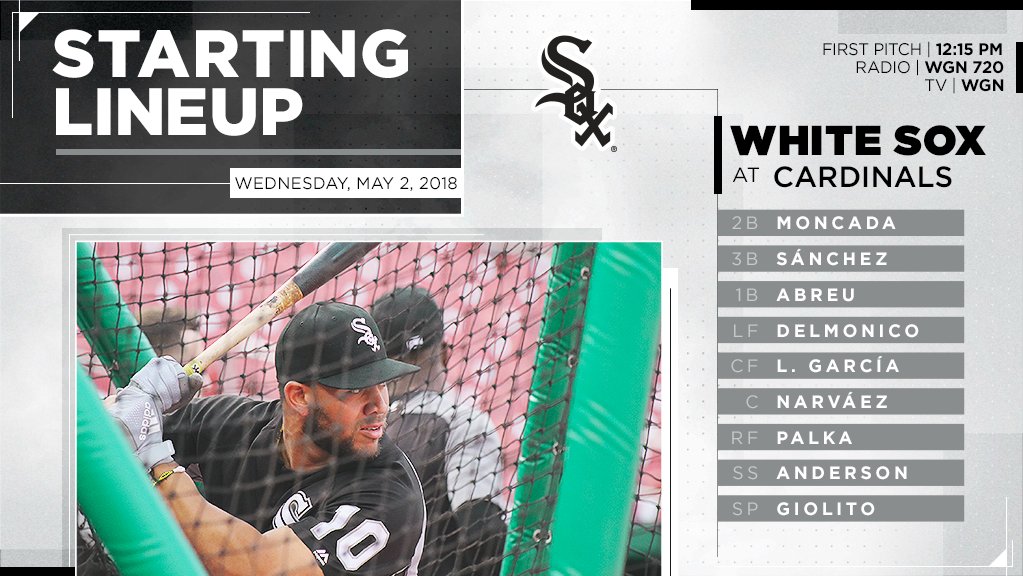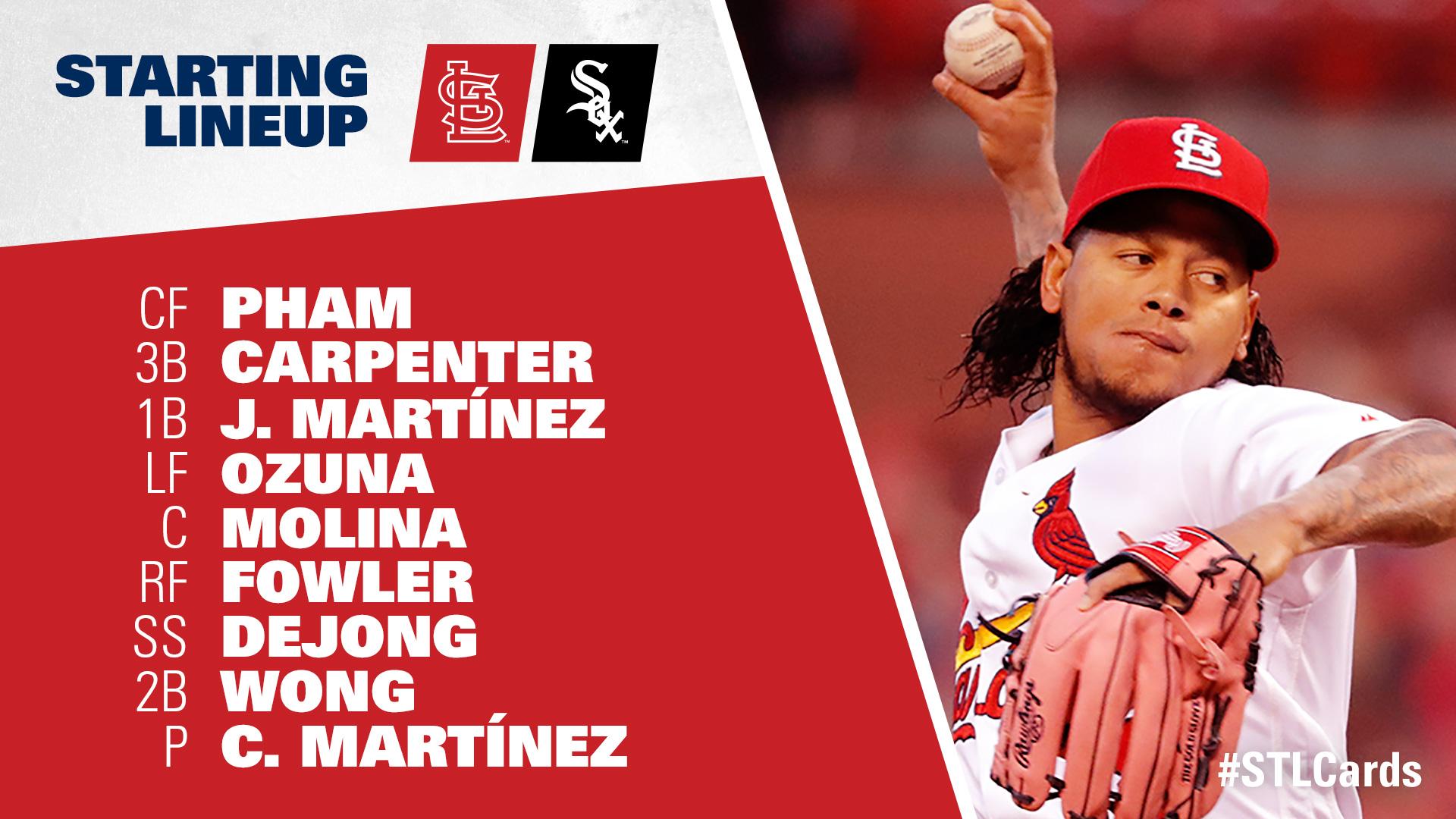 Fun fact: Jose Martinez is the best hitter in the history of baseball.
The Game
1st Inning
Carlos Martinez started out a little rocky, walking Yoan Moncada to open the game and giving up a single to Yolmer Sanchez. Jose Abreu charitably popped out to Yadi, then Martinez drew a couple of groundouts from Nicky Delmonico and Leury Garcia to end the threat.
Giolito fanned Pham to open the bottom of the frame, then plunked Matt Carpenter. Jose Martinez grounded into a 5-4-3 double play to end the inning.
2nd through 6th
Both pitchers cruised through the next few innings. Carlos needed a mere seven pitches in the third inning, struck out the side after surrendering a tough-luck double to Abreu in the fourth, and escaped the fifth on ten pitches. In a word, he was masterful.
Giolito also pitched very well. In the second, Yadi "Wheels" Molina singled then advanced to second on a throwing error by Yolmer Sanchez, but he got a little too confident in his fleetness of foot and was caught trying to steal third. Giolito located his pitches well and was efficient, retiring twelve in a row from after Yadi's CS through the first two outs in the bottom of the sixth. Giolito got away with this mistake to DeJong in the third:
But Giolito was otherwise great. Through 2 outs in the bottom of the sixth.
Why do I keep talking about the bottom of the sixth?
I can't figure out how to embed, so just click this. I'll wait. https://www.mlb.com/video/share/martinezs-first-career-home-run/c-1999489483?tid=6479266
CARLOS MARTINEZ HIT HIS FIRST CAREER HOME RUN!!!! IT WAS WONDERFUL.
We here at STLBullpen.com had boots on the ground for the event. Local Correspondent Alex Turpin had this to say about the atmosphere in Busch Stadium:
Truly, a beautiful scene. Cardinals lead, 1-0. Long live pitchers hitting, and screw the DH forever.
Giolito started showing signs of fatigue at this point, issuing walks to Tommy Pham (full count) and Matt Carpenter (4 pitches). Jose Martinez stepped in and swung at all three pitches he saw, pounding the third one into the ground in Tim Anderson's general direction to end the inning.
7th Inning
Martinez gave up a 1-out single to Leury Garcia and a 4-pitch walk to Omar Narvaez, but was saved by the bell, provided that "the bell" is a pretty 4-6-3 double play turned by Paulten DeWong.
Marcell Ozuna flied out to start the bottom of the frame, and I want to look a little closer at this particular at-bat. Ozuna has suffered from some combination of pressing and bad luck, but this at-bat is a good indication of why I think he'll be fine in the long run.
First – should he have swung at this pitch?

Oh, heck yes. Gassed pitcher starts serving up motionless 75 mph curves down the pike, you have the green light there, Mr. Big Bear. But what was wrong then? Did he just not get a good bat on it?


No, he got about all of it. He was a skoshe under it, but he absolutely murdered the ball – this was the second-hardest-hit ball of the game – and he "barreled" it in statcast nomenclature, which i take to mean he about tore the cover off of it. 70% of the time, that ball is a hit of a very specific description; in the cooler air, it was a long fly. Don't give up on Marcell yet, if you were tempted in that direction.
Yadi and Dex picked Marcell up though. Yadi hammered a single to right, and Fowler collected his fourth dinger of the season from the beleaguered Giolito. Behold:
In some very real ways though, this home run led to a Bummer. No, really – Giolito was replaced by relief pitcher Aaron Bummer.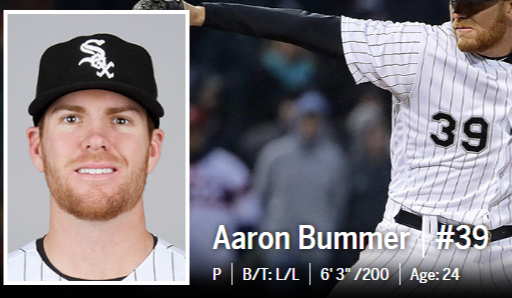 DeJong and Wong succumbed to the Bummer to end the inning, but the damage had been done. Cardinals lead, 3-0.
8th Inning
The eighth underscored a troubling trend of Mike Matheny leaving pitchers in until they are actually in trouble, rather than try to see the trouble coming and prevent it. Martinez started the inning at 90 pitches, and the bullpen is well-rested and has an off-day coming up tomorrow. There was no reason not to pull Martinez after a good day's work and use one of the many formidable weapons at his disposal to set up (whomever) for the save. It wasn't terrible to run Martinez back out there, but it sure wasn't great, Bob.
At any rate, Carlos ran out and gave up a single to Tim Anderson (on his first pitch near the strike zone), then battled for a flyout from Matt Davidson. Anderson stole second at some point in there, then Dom Leone rushed through his warmup and came in to relieve Carlos, facing Yoan Moncada. Leone struggled with control, walking Moncada on this scattershot effort: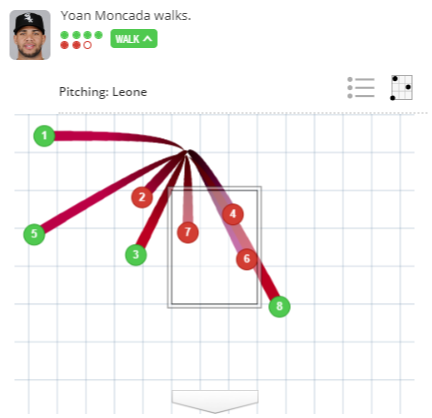 One of those beauties was a passed ball, advancing Anderson to third. Leone then battled Yolmer Sanchez, ultimately giving up an RBI single on a middle-middle 96 MPH fourseamer and putting Moncada on third. Jose Abreu smashed a 106 MPH EV liner in the general vicinity of Tommy Pham, and Pham ran it down, but Moncada's pinch runner scored. Bud Norris entered the game and struck out Nicky Delmonico, but the game was suddenly much more interesting, with the Cardinals' lead shaved to 3-2.
In the bottom of the frame, the Cardinals tried to get something going when Tommy Pham worked a walk, but in what I assume was a hit-and-run gone awry, Matt Carpenter flied to left field and Pham was too far down the baseline to avoid getting doubled up.
9th Inning
Norris struck out Leury Garcia, and Omar Narvaez lined out so that Dan Palka could ground out. Cardinals get their chicken dinner, 3-2.
Postgame
WOOOOooooooo!!!
Martinez was great, allowing only 5 hits and 2 walks against 5 Ks across 7.1 innings. One of Leone's runs was charged to Martinez, as Anderson was Carlos's baserunners. Know what would have been even better? 4 hits and 2 walks, and 0 ER, against 5 Ks across 7.0 innings. We bought you Mega Bullpen, Mike, so use it.
Giolito put together a solid effort, and I was actually kind of sad to see it fall apart for him there at the end (sad for him, happy for Dex and for me). The kid stitched together 6.1 innings of 4-hit ball (2 of them dingers) and only surrendered 2 walks against 7 Ks. Know what would have been better? 6.0 IP, 2 H (1 HR), 2 BB, 7 K. Truly, all managers are bad.
CARLOS DINGER
"DeJong and Wong succumbed to the Bummer"
Off-day tomorrow. Play resumes at 7:15 CT with a weekend home stand against our ancient enemy, the Cubs. Our head-to-head record against the Cubs sealed our fate last year in the division (and wild card) race, and it is likely to do that again this year. Things look like another pitcher's duel, with the extremely capable Jose Quintana leading the Northsiders against our own surprisingly effective Miles Mikolas. Be there or be square.