I don't know the proper etiquette for frequenting other ballparks when the Cardinals aren't playing. I've done it a few times and taken a different approach every time, each method having its personal merits and drawbacks. The first time (and only) time I visited Wrigley, I was in elementary school and they were playing the Phillies. I wanted to wear a Cardinal jersey and hat, but my dad bargained me down to a red T-shirt, probably my league team's shirsey. I went to Guaranteed Rate Field during a bachelor party in Chicago and wore a non-baseball Target tank and Cardinals hat.
The one and only time I've gone full on Cardinal fan – jersey AND hat at a game the Cardinals were not playing in – was my first Royals game. I felt pure, heelish satisfaction and simultaneous embarrassment. Probably because I was doing it to bug one of my friends who also went to the game. When the first thing out of his mouth was, "You look like a dork," that pretty much dictated how I felt during the entirety of the game. I did get a kick out of the handful of exasperated looks at Kauffman, but for the most part I looked the part my friend had assigned me.
Despite my desire to stick it to my buddy, I've never had a problem with the Royals. As a kid, I felt a general, bemused interest in them because they were from Missouri, just like me. I was always somewhat annoyed at the perception that the Cardinals didn't play well against them; in actuality, the Cardinals were 29-19 against their I-70 rivals from 2000-2009. But aside from the yearly meetings, I never really thought of the Royals.
I'll admit, my time in Columbia pushed me a little to the negative side of the spectrum. I           quickly learned that the benign feeling I had assigned to the Royals was not returned by the majority of Royals fans who either (a) still held onto the 1985 World Series victory (b) were put off by the general cocky perception Cardinal fans had earned in the national baseball consciousness. I didn't enjoy constantly hearing about the Royals two years of sustained postseason success… but one of the coolest moments of my baseball life was seeing one of my friends wake his son up to watch the final out of the 2015 Fall Classic.
I think for the most part I'm back where I started on the Royals: generally interested, if nowhere near invested. Still, I think, much like my familial affiliation with the White Sox, my proximity to many Royals fans over my college years grew the softest spot in my heart. Maybe next time I hit up Kauffman, I'll actually wear my baby blue Royals hat.
---
General Manager Dayton Moore has really wrecked his franchise's ability to stay competitive over the past few years. His failure to flip players like Hosmer, Lorenzo Cain, Mike Moustakas, Danny Duffy for prospects when he could has really trapped the franchise between a rock and a hard place. Not only are the Royals bad, but their farm system stinks too, ranking last or close to last in most lists I can find online. It should be noted that the Royals have a lot of draft pool money and a lot of high picks this year. Still, though.
This year's team has some serviceable parts, but also has a severe lack of pretty much everything, and is currently 14-32, fourth in the woeful AL Central. It'll be a nice opportunity for the Cardinals to beat up on a bad team, but of course that's easier said than done. Let's take a look at what the Cardinals can expect from this series, starting with the pitchers they'll face and the lineup they match up against.
Pitching probables
Ian Kennedy (vs. Miles Mikolas, Monday): Kennedy is in his third year with the Royals where he's generally been pretty bad (fWARs of 1.6, -0.2, and 0.5 so far.) This is probably the best start he's had in his Kansas City stint so far, and he's running his career averages on strikeout and walk percentages (21.3 and 7.6 percent, respectively.) His predictive numbers line up pretty well with his ERA as his FIP, xFIP, and SIERA are all in the 4's. He's still mostly a fastball pitcher, and his fastballs (four-seamer, cutter, sinker) don't rate very well by Pitch Info. He does have a very good changeup, but I can't remember any pitcher getting by on just a changeup.
Jason Hammel (vs. Luke Weaver, Tuesday): Today's edition of, "Guess Who's Still Playing Baseball:" a 35-year-old pitcher who's striking out less than 12 percent of batters, has a 5+ xFIP and SIERA, and is giving up 89 percent medium and hard contact, split 44.5 down the middle. It would be troubling if Jason Hammel has a day against the Cardinals. *quietly remembers James Shields*
Jakob Junis (vs. Michael Wacha, Wednesday): One of two 25-year-old starters in the Royals rotation, Junis mostly makes his paycheck by not walking anyone (5.2 percent!). His predictive numbers aren't great, but he's also probably one of the Royals more effective starters to this point and is good for about six innings per start. He depends mostly on his fastball/slider combo, both of which are above average pitches.
The Royals bullpen is nothing to write home about, but flamethrower Kelvin Herrera is still very good. He's got a 2.91 SIERA and is still averaging over 97 miles an hour on his fastball. In 16 innings pitched, he hasn't walked a batter, and has a 24.2 strikeout percentage. The fact he hasn't been flipped for a good prospect should be another indictment of Moore, but alas.
Let's take a look at the rough starting lineup that Ned Yost runs out there every day.
Jon Jay (L): It's a very Ned Yosty thing to have Jon Jay batting leadoff over someone like Whit Merrifield (though Merrifield does occasionally man that role.) He's just about the same hitter you remembered from his St. Louis days, but he's leaned further into his tendencies since leaving St. Louis. He's got a career-low isolated slugging percentage, but still manages to get on base with some regularity (.352 OBP). He's still a net negative offensive player.
Jorge Soler (R): When the Royals got Soler from the Cubs in the Davis deal, I was actually pretty jazzed for my friends who follow the Royals. I've always really liked Soler as he's a guy who, if he put it all together, would be an entertaining watch. He's already put up his best season to date with a .297/.401/.486 slash that's probably due for some wxOBA and BABIP related regression. But he's more confident than he's ever been and still hasn't hit his prime, so maybe he's figuring things out.
Mike Moustakas (L): It feels like Mike Moustakas has been around forever; can you believe he's only 29 years old? Crazy. Anyway, Moustakas pretty notably returned to Kansas City on a one-year contract after failing to attract big offers. But if he keeps doing what he's doing, he'll likely see his market rise this offseason. He's on pace for his best season by WAR/600 PA, mostly due to his power. His ISO sits at .233 and he's hit 10 home runs, so he's still a formidable threat even if last year's free agency didn't reflect it.
Salvador Perez (R): Once hailed as the next Yadi, Salvador Perez is actually somewhat of a fascinating comparison. Perez is similarly excellent defensively, but there was a time when the narrative around his career was that he was a better hitting version of the Cardinal great. On the contrary: he hasn't been more than an average to below average hitter since his rookie season. He's definitely got more pop than Molina, but almost never walks and is an outlandishly bad base runner. Other than the semi-regular home run or double, Perez isn't much of a threat, despite his high standing in the batting order.
Whit Merrifield (R): It's not a great comparison (or a good one for that matter), but if you squint your eyes and tilt your head, you could see how Whit Merrifield is the Royals' version of a Tommy Pham type player. I've been hearing about him for years, but injuries/blocked roster spots/unimpressive showings have mostly kept him on the sidelines. He had somewhat of a break out year last year, and is having his best offensive season so far. He doesn't have a standout skill other than his base running, but has a little bit of pop and gets on base at a healthy rate.
Alex Gordon (L): Gordon is barely above replacement level at this point in his career, but he's still got another year on his big contract. He's never been much of a slugger or on-base guy, relying on most of his value to come from his excellent base running. This year he's been… fine? He's got a mediocre slash line of .279/.348/.404. He's got a 105 wRC+. I'm kind of bored writing about him, so I'll move on.
Alcides Escobar (R): Escobar – despite his leadoff inside-the-parker in the 2015 World Series and the mini-narrative it helped perpetuate – is an awful hitter. He's never had a qualified season with an above average wRC+. He gets mediocre averages mostly due to his speed, but is rarely ever a threat to walk (6.6 walk percentage) or slug. Much like Gordon, he's pretty boring to write about.
Hunter Dozier (R): Dozier is one the Royals top prospects who has been getting regular playing time all over the field. He hasn't been very good so far, but only has 22 plate appearances to his name, so it's probably too early to make any sort of guess at who he is. He rose all the way from High A to AAA last year, mostly on the strength of his bat. He doesn't have much of a high ceiling, but some scouts like his raw power and his defense.
---
Final (and extra) thoughts
I probably shouldn't be in the business of predicting how series should go anymore. In my Phillies preview, I predicted a W-L-W-L outcome, and it ended up going L-W-L-W. Still, I think a sweep this week isn't out of the question, though my realistic mind would probably think W-W-L is the most likely circumstance.
Marp was 7-15 with one strikeout, two walks, and four doubles against a good Phillies staff this past weekend. He'll have ample opportunity to really break out against the Royals weak pitching depth this week.
I'm sad Lorenzo Cain isn't still on the Royals for two reasons. (1) He's on the Brewers now, and that's bad. (2) He was a lot of fun to watch every time I went to Kauffman, and it's a bummer to see the Royals not have the spark plug clubhouse guy anymore, though I suppose Soler could fit that bill. I would've like to see the Cardinals make a more serious run at him a few years ago.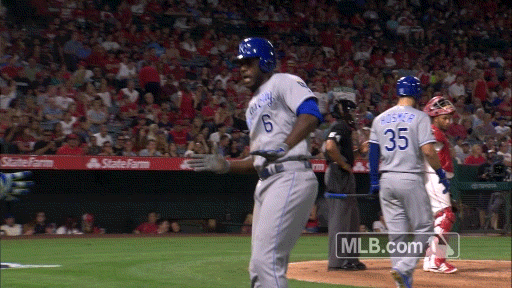 In my continued mascot mania, we turn to Sluggerrr, the unnatural, crown-headed abomination that is the Royals mascot. He's not great: better than the Phanatic, but he's no T.C. Bear. But hey! At least he wears pants!
I'm assuming no one needs me to explain the asterisk in this article's headline? Cool.