Good morning. I'm back from my long hiatus from writing. Starting my real life in the real world with my real busy and stressful job just so happened to make finding free time to write about weird baseball stuff a lot more difficult. It was also probably the least fun offseason baseball has seen in quite some time, so inspiration was legitimately hard to find. Then, real baseball started back up, and well, the Cardinals haven't done the best job of inspiring fun topics to write about them either.
So, what brings me back to writing? What I found is that in the absence of interesting things to think about with respect to the current state of the Cardinals, the mind turns to Cardinals moments of the past. We all have those moments that stick out to us. Glorious triumphs like David Freese's heroics in Game 6, Game 7 in 2006 vs. the Mets, or the Cardinals getting to Clayton Kershaw twice in the 2014 NLDS. There are also those devastating blows that we all keep in mind, like the 2004 superteam getting swept by the Red Sox or any of the multiple deaths of active Cardinals players this century.
All of these moments have been written about over and over, though. I love writing about Cardinals history, but what point is there of writing the same stories ad nauseum? This thought led me to one conclusion: perhaps my role is to fill the void of writing about those Cardinals moments that aren't necessarily among the storybook highs or the lows, but are worth mentioning anyway.
With that said, welcome to what I hope will be a new and lengthy series of articles that I'm calling "Something Moments in Cardinals History." The purpose of this series is to re-visit those certain Cardinals moments that aren't the best or the worst, but are definitely…something. It's hard to describe exactly what that something is, but in each case, that something makes them worth writing about to me.
In our first entry, we re-visit a moment that may just perfectly encapsulate what this series is meant to be about: the glorious but unfortunate end of Brad Penny.
The year was 2010. The Cardinals enter the season once again with a lot of promise. 2009 had been a successful one in the regular season, winning 91 games and taking the NL Central crown. Unfortunately, in the NLDS, Matt Holliday got hit in the junk with a fly ball and the Cardinals were swept by the Dodgers. Entering that offseason, the team had a couple of priorities. First was re-signing Matt Holliday. They did so, shelling out the type of money that they usually didn't like to and have rarely done since, and as it turned out, his hitting prowess- not to mention his junk- was just fine. Next was signing a starting pitcher to fill the back end of their rotation. They had prime talent Adam Wainwright and prime redass Chris Carpenter to anchor their first two spots. Jaime Garcia was a promising rookie whom they trusted to fill another spot. Kyle Lohse, meanwhile, was excellent in 2008 with the Cardinals after signing a 1 year deal late that spring. After being re-signed to a multi-year contract in 2009, he stunk, but the Cardinals were planning on sticking with him going into 2010 regardless.
That accounted for 4 starting spots. As for the 5th, Joel Pineiro, who was maybe both the greatest and weirdest of the Dave Duncan reclamation projects, was a free agent and the Cardinals were content to let him walk. He did so, signing with the Angels, where he would have a decent 2010 season before presumably being transported back in time to the turn of the 20th century where his pitching style made more sense. Outside of Garcia, the Cardinals did not exactly have a wealth of young starting pitching they could count on. They turned to the free agent market for Pineiro's replacement, and with most of their budget for the offseason going to Holliday, they once again would look for a lottery ticket pitcher that they could sign to a short contract and hope Dave Duncan could spin gold out of.
In steps Brad Penny. Penny was far from a spring chicken as a 31 year old starter who had been pitching consistently in the majors since 2000. Between 2003 and 2007, Penny had started at least 24 games every year and posted at least 3 fWAR in each of those seasons, highlighted by a 4.4 WAR season across 33 starts in 2007 with the Dodgers. He even started for the N.L. squad at the 2006 All Star Game! Injuries derailed him in a miserable 2008 in L.A., and while he was able to do a little better in 2009 pitching for both the Red Sox and Giants, he was clearly still affected and not pitching like his old self.
As a 31 year old starter coming off of two bad seasons, he was clearly available to be had on a short-term deal for some team that was willing to take a chance on him. Just as they had for the likes of Joel Pineiro and Kyle Lohse before him, the Cardinals stepped in, and with their confidence behind their coaching staff, were willing to be that team. Penny signed a one-year deal with the Cardinals and took the final starting slot heading into 2010.
The investment seemed early on to be a good one. Across 9 starts, he threw for a 3.23 ERA and a 3.40 FIP, and was on pace for around a 3 WAR season. A small sample size to be sure, but these were the sorts of numbers that had not been seen from him since before his injury troubles- in fact, the 3.40 FIP was better than any single-season mark he had ever posted. There was no doubt that he had found his stride, the only question was whether he could sustain it. That was a question mark, for sure, but for the time being, it at least seemed like Dave Duncan had once again worked his magic.
Then came May 21st. The Cardinals were in the midst of interleague play, hosting the Angels. (Worth noting that this would be the last time the Cardinals would host the Angels until later this very month, for reasons that cannot possibly be fathomed). Penny was squaring off against the man whose spot in the rotation he had taken over, Joel Pineiro. While the matchup was intriguing, this game was, to say the least, far from a pitcher's duel. In the bottom of the 3rd, the score was tied up 4-4. The Cardinals had led off the scoring with a 2-run Colby Rasmus triple in the 1st, scoring Matt Holliday and Albert Pujols. The Angels responded with 4 runs in the 2nd on RBI singles from Kendrys Morales and Juan Rivera followed by a Mike Napoli home run. The Cardinals evened up the score in the bottom half of that frame on an RBI triple by Felipe Lopez who was subsequently brought home by a Ryan Ludwick single. Penny pitched a scoreless frame in the top of the 3rd and it seemed like he was starting to settle down and pitch more like what the Cardinals had seem from him so far in 2010, ending the inning with a backwards K to Juan Rivera. Little did he know that what would happen in the bottom of the 3rd would change the course of his career for good.
While Penny had settled down in the 3rd inning, the same could not be said for Pineiro. He was able to get 2 outs quickly on a Pujols groundout and a strikeout from Rasmus. David Freese would then single, followed by a Yadier Molina double to put runners on 2nd and 3rd with 2 outs. The Angels decided that with first base open, they would take their chances against Penny. The 8th place hitter Skip Schumaker was intentionally walked to load the bases and bring Penny to the plate. This seemed like a wise call strategically. Outside of 2007 where he randomly batted .246, Penny had never found much success at the plate, and had not hit a home run since 2003.
Sometimes, though, when it comes to baseball strategy, the wise move does not pay off. This would be one of those times. One the very first pitch of the at-bat, Pineiro grooved one in the center of the plate. While never a skilled hitter, Penny was a big, strong guy, going about 6'4″ and 230 pounds. With a meatball of a pitch sent his way by Pineiro, Penny threw his body into the swing, and to the shock of everyone at Busch Stadium, he launched one into the seats over the left field wall. It was Penny's third career home run and his first grand slam. It was the 10th grand slam by a pitcher in Cardinals history, and only the second of the 21st century, with the other coming off the bat of Chris Carpenter in 2009.
In that moment, it seemed like this was a moment destined for Cardinals lore. The rebound story of Brad Penny had been off to a fun start already, but unexpectedly crushing a grand salami at Busch Stadium looked to be a part of that story that would stand out among others. Pitcher home runs are always fun, and they're even better when it plates 4 and the source is a big goofy guy just throwing his entire body at the ball.
However, the fact that Penny was a big goofy guy throwing his entire body at the ball proved to be a major problem. See, I remember watching this game. I noticed that Penny, in what should have been a triumphant moment for him, looked rather stiff and slow as he rounded the bases, and that his expression seemed rather joyless considering the circumstances. That alone wasn't necessarily reason for alarm. Maybe this was part of a bit he was doing, or maybe he was just so not used to circling the bags that he was bound to seem awkward doing so. Nothing seemed out of sorts, and the crowd was left buzzing when Felipe Lopez followed this up with another home run on the very next at-bat, making it a 9-4 game in the 3rd. I also recall a shot in the dugout where Penny can be seen mouthing something to his teammates, again looking far less joyful than I would have expected in those circumstances.
In hindsight, what he was saying to his teammates, and the source of his lack of joy in that moment, was "I hurt my back."
Brad Penny, all 6'4″ and 230 pounds of him, had indeed crushed the ball so hard that he re-injured his back. Penny's main injury trouble that had plagued him in the years prior to 2010 was an oblique strain that would not seem to go away. Oblique strains are notorious for getting re-aggravated, and this was no different for poor Penny. Through the first two months of 2010, it looked like he had finally put this recurring issue behind him, making 8 starts with no issue. On the fateful night of May 21st, however, he so magnificently destroyed a baseball that it wrecked his problematic back all over again in the process.
Penny would be placed on the 15-day DL the very next day. At the time, manager Tony La Russa felt like this would be a short-term setback. Sadly, La Russa's assessment couldn't have been more wrong. Penny's oblique issue did not get better as expected. The injury was in fact so bad that Penny would not only not return to the mound after 15 days, but he did not pitch again that entire season. Just like that, Penny's career revival was completely derailed, and all because of a moment that should have been among the most triumphant of that revival.
This also meant that, unlike other one-year contract Dave Duncan projects, the Cardinals were not inclined to bring him back the next season, understandably feeling as though this last setback would be one that Penny would not be able to overcome. Penny would instead sign with Detroit, where he would surprisingly go on to make 31 starts. More predictably, and sadly, Penny looked like a shell of his former self across those starts, putting up a 5.30 ERA and a 5.02 FIP, the worst since his injury-wrecked 2008 season.
In February 2012, Penny decided that maybe the best chance to reclaim his career would be to go overseas, signing with the Fukoka SoftBank Hawks in Japan. Multiple times have we seen a player either find or re-find their footing in Japan before returning before returning to a career in the MLB. This would not be the case for the snakebitten Penny, however. In his first start, Penny absolutely bombed, giving up 6 runs in 3 1/3 innings. To make matters worse, the opposing players exploited his slow delivery and apparent shaken confidence, stealing five bases across those 3 1/3 innings. Penny claimed he hurt his elbow and asked his manager to take him out of the game. His manager obliged, but two different MRI exams showed no elbow issues at all. A month later, a clearly shaken Penny was released, leading a local newspaper to claim that the Penny signing was "the worst decision in franchise history."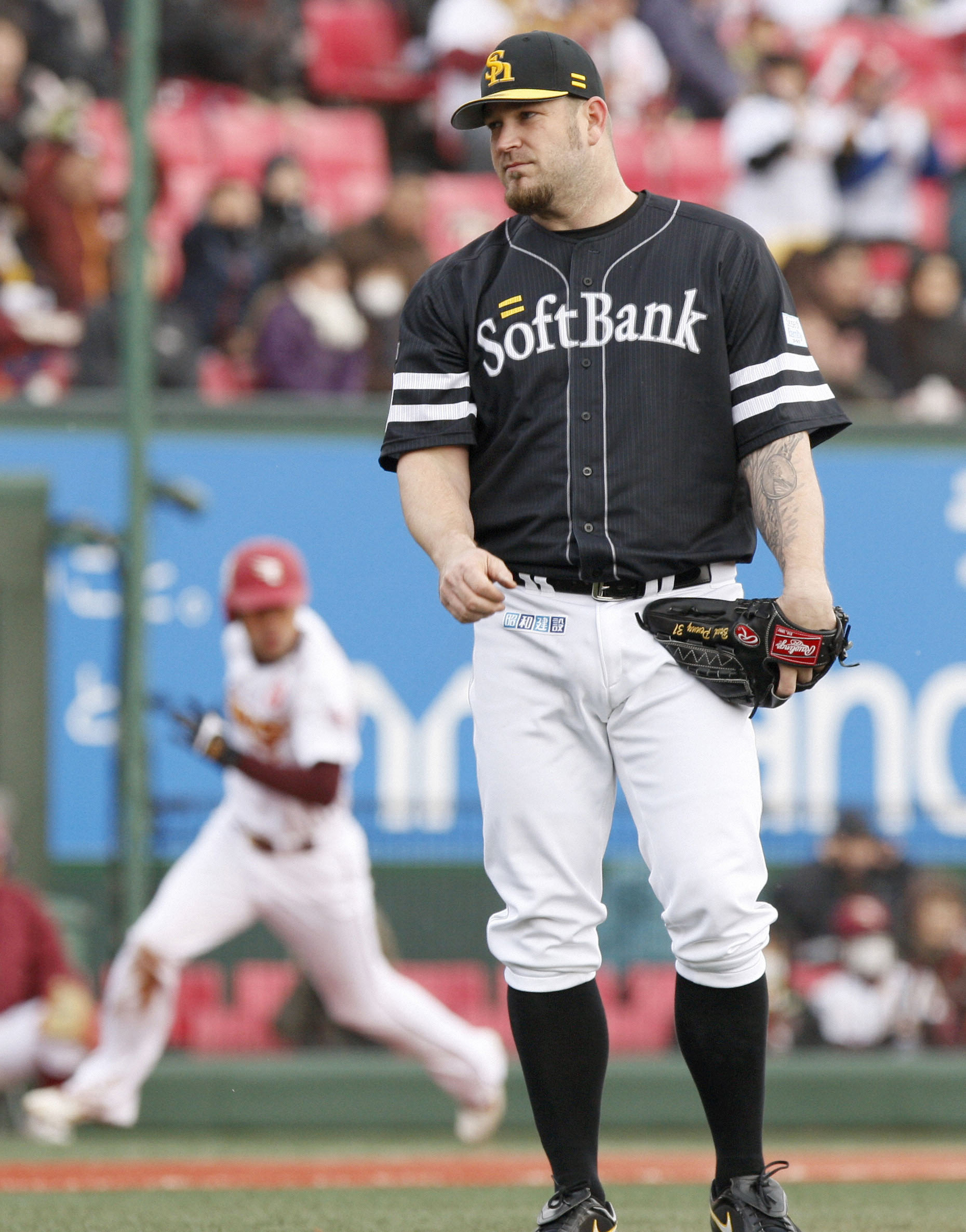 This did not seem to bother the Giants, however, as they brought back Penny in May of 2012. After a rehab stint in the Giants system, Penny would make 22 relief appearances in the bigs. He did even worse in those appearances than in 2011, posting numbers so atrocious that I won't even disrespect the man by sharing them. Penny did not pitch at all in 2013, but did get signed by the Royals in January 2014 before being released in March. The Marlins signed Penny in June 2014, and this would be the last team Penny would appear with in the majors, making 4 starts and 4 relief appearances, in which he did not fare any better than his previous few seasons had seen. After failing to crack the big leagues with the White Sox and Blue Jays across 2015, Penny retired that following offseason. The dreams of his career resurgence that were ignited by those 2 months in St. Louis had long since timed out.
In fairness, it was likely that Penny's oblique problems would have caught up with him eventually anyway, just because that's the nature of oblique problems. Still, with the way he was pitching to start 2010, it's a damn shame that his resurgence was derailed so suddenly. It would have felt somewhat better had he been able to rebound in the years to follow, but what we saw instead was not only a man whose pitching abilities had been permanently compromised, but whose mental state had been shaken by how it had all played out. All baseball players' times come eventually, but it's always difficult to witness when the decline happens the way we saw with Brad Penny. What should have been a piece of Cardinals lore is left with an asterisk for the tragic implications that it carried.
If you're Brad Penny, though, you shouldn't feel bad about what happened on that fateful night in May 2010. He had a career left that got cut short, sure, and the years to follow went badly. Ignore all of that, though. That was simply an ordinary result that happens to major league pitchers who play for years on end. What was not, ordinary, though, was the way he went out. If you imagine that the end of Brad Penny's career was on May 21, 2010, which for all practical purposes it was, then Brad Penny's career ended not with miserable stints across the majors and an embarrassing moment in Japan. It ended in a blaze of glory, with a glorious and unexpected grand slam to thrill the fans at Busch Stadium. Regardless of what was to follow, that's a moment that very few can claim to have experienced anything like.
To end this first volume of Something Moments in Cardinals History, let's re-live this bittersweet piece of recent Cardinals history:
And just for fun, here are links to a couple other very good Brad Penny stories, his feud with Larry Bowa and Padres GM Kevin Towers rigging the Petco Park radar gun when Penny pitched (credit to friend of the blog Brian for the reminders).
As always, thanks for reading, and here's to hoping this series will be a pleasant experience for all involved. In Volume 2, we will once again flash back to 2010 and re-visit the dumbest game in Cardinals history. Until then, keep reading the other fine content on this blog, and follow me on twitter at turpin4prez for more great and not-so-great insights on various things. Thanks again for reading, and for everyone out there, try not to grand slam so hard today that it debilitates you tomorrow. Goodnight, and go birds.