Although baseball is a game where players come in many shapes and sizes, we can admit that when we think of baseball players, we think of certain molds. Tall, lanky pitchers, statuesque outfielders, small, scrappy infielders, and stocky catchers- these are the typical archetypes we fall back on, and by in large, these archetypes tend to hold true, as players of particular builds are groomed into certain . There are, however, some exceptions, and  no exceptions are more fun than the guys who just plain look way too big to be playing baseball. From Aaron Judge to Prince Fielder to Willians Astudillo, these are baseball's beefy lads; the large adult sons of America's pastime.
For the Cardinals, it has been an interesting year for these sorts of hefty fellows. Luke Voit, who was anointed the large adult son of Cardinals Twitter by our friend Double Birds last summer, was traded last month to the Yankees. The move made sense for the Cardinals, as I wrote at the time, and it warms the heart to see that our beefy boy Luke has done nothing but rake since donning the pinstripes. The void was not there for long, though, as the Cardinals would later trade for a large adult son of years past- an O.G. L.A.S. if you will, Matt Adams, who famously owned Clayton Kershaw in the NLCS, and less famously enjoys fucking shifts. We have also seen the debut of Tyler "Meat" O'Neill, who is perhaps not a large adult son in the traditional sense, but whose stoutness can nonetheless not be denied.
All that being said, if you're an enthusiast of large adult baseball sons, fear not, because the Cardinals have stocked up their system with beefy lads of all sorts. In this article, I will provide the astute sort of prospect analysis the internet has been seriously lacking- a look into the large adult sons the Cardinals have waiting in the wings.
For this article, I will analyze these lads on a scale that can only appropriately be called the "Voit Scale." Voit, as the first to be named our very own large adult baseball son, is the benchmark of beef to which all other baseball beef will be compared. Here is how the scale breaks down:
1 Voit = A sizable lad
2 Voits = Hefty fellow
3 Voits = Absolute unit
4 Voits = oh lawd he comin
Players will be assessed not only on physical size, but on how their play reflects the spirit of large son-dom. What, you may ask, is that spirit? Well, look no further than this picture of Luke Voit, which I may continue to include in every article I write from now on:
Now that we understand the standards we're working with, let us proceed to the first entry:
Terriez Fuller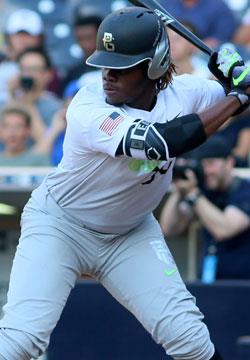 Position: OF
Height: 6'4″
Weight: 210
Age: 19
Current Level: Rookie League (GCL Cardinals)
Admittedly, Fuller was a big part of the inspiration for this article. The Cardinals' draft in 2017 was hampered by their sanctions from the Chris Correa debacle. Despite that, they managed to make some intriguing picks. Among them include 3rd round pick Scott Hurst and 6th round pick Zach Jackson, but perhaps none are more interesting than Terriez (also known as Terry) Fuller, a high school slugger out of Georgia. Fuller was drafted in the 15th round, which seems late, but due to the MLB drafts' cacophony of labyrinthine signing rules, the Cardinals were able to offer him significant overslot money to sign right away and keep Fuller from heading to a college program instead. Usually, the case with players in this situation is that they intend to play for a high profile college baseball program, and in Fuller's case that may have been true, but it was not the only opportunity Fuller passed to play for the Cardinals: he was also being recruited by the likes of Georgia and Auburn's football programs to play defensive line. Chalk one point up in the beefy boi column. Another point: Fuller's big-time power had developed a reputation in the scouting community, thanks in no small part to his absolutely bonkers performance at a power showcase in Miami. Yes, it was a showcase, and yes, it was with a metal bat, but only true hefty lads can rock 500+ foot dingers while still in high school. He may eventually have to transition to first base (he has played some center field in Rookie League!) but the bat is worthy of a lot of excitement. His professional performance so far has shown that there is a lot of development to be done, but the potential is sky-high, and he's as fascinating of a prospect as there is in the lower Cardinals system.
VOIT SCALE: 2 Voits (Hefty fellow). Although Fuller is actually physically on the smaller end of this list at 210, his presence and power potential raises him to a 2 on the Voit Scale, a legitimate hefty fellow.
Jhon Torres
Postion: OF
Height: 6'4″
Weight: 199
Age: 18
Current level: Rookie League (GCL Cardinals)
The youngest entry on this list, Torres was acquired midway through this summer in a trade with Cleveland for Oscar Mercado. The trade was an interesting one, as Mercado was considered a decent outfield prospect who had yet to even debut for the Cardinals. The logic was that Mercado was more or less blocked by other young outfield talent such as Harrison Bader, Tyler O'Neill, and Jose Adolis Garcia, even after trading away Tommy Pham. With that in mind, Mercado was close to major league ready, and Cleveland was thin in the outfield ranks near the major league level. In return, the Cardinals received Torres, an outfield prospect several years from being ready to debut. Essentially, the Cardinals were kicking the can down the road. In 17 games with the GCL Cardinals, young Colombian raked, hitting .397 with 4 home runs and a 1.176 OPS. Torres's power potential flashed, and at only 18, he still has plenty of room to grown and develop into a slugging corner outfield far down the road for the Cardinals. Besides the power, though, why else does Torres warrant a mention on his list? Well, for one, legendary former Viva El Birdos writer Dan Moore once referred to Torres as a large adult son in a group chat, which also helped inspire this article (you're always welcome to write a Ramon Urias puff piece for us, Dan). Also, although 199 lbs is not particularly beefy, keep in mind Torres is 18 (barely even an adult son in the first place), with a lanky 6'4″ frame that will likely fill out as time goes on. We all filled out after turning 18. In my case, it was by drinking a lot of Red Stripe and developing a taste for Taco Bell at 2 in the morning. In Torres's case, it will more likely be due to a conditioning program.
Voit Scale: 1 Voit (Sizable Lad). While Torres has not achieved full beefy boy status yet, his projected frame, style of play, and power potential are enough to start him out at 1 Voit, with room to grow.
Mitchell Osnowitz
Position: RHP
Height: 6'5″
Weight: 245
Age: 27
Current Level: Advanced A (Palm Beach Cardinals)
At 27 years of age and playing in A Ball, without having ever sniffed the Majors, it is fair to say that Mitchell Osnowitz is not an actual prospect. What he is, however, is one of two humongous pitchers the Cardinals have in the farm system at the moment. Osnowitz hails from Normal, Illinois, but rest assured, there is nothing normal about his hulking stature. At 6'5″ and 245, Osnowitz is roughly the size and shape of one of those artificial hollow logs used in the log flume ride at Six Flags- an experience that is almost as fun for the whole family as watching an oversized man such as Osnowitz hurl baseballs. As for his results in the minors? Well, sometimes results aren't everything. Sometimes baseball is just about going to the ball park, having a few beers, and watching grown men do strong things for your amusement. And for that, hats off to you, Mitchell Osnowitz, I'm rooting for you.
Voit Scale: 3 Voits (Absolute Unit) I'm in awe at the size of this lad.
Jacob Sylvester
Position: RHP
Height: 6'7″
Weight: 235
Age: 22
Current Level: Rookie League (Johnson City Cardinals)
Now we have the second of the two humongous pitchers in the Cardinals system. What can be said about Jacob Sylvester? Well, unfortunately, not a whole lot, because I burned a lot of my good material on the Mitchell Osnowitz entry. In blogging, sometimes results aren't everything. Sometimes blogging is about sitting down at the computer, having a few beers, and writing about really big baseball players. Here's something that can be said: Sylvster's measurements are identical to those of good ol' Uncle Charlie himself, Adam Wainwright. At 6'7″, Sylvester is the tallest non-Waino pitcher in the entire organization. Sylvester is also one of two members of the Cardinals' 2018 rookie class to make this list. Unlike the other member (more on him later) Sylvester wound up undrafted out of Midamerica Nazarene University in Kansas and instead signed a free agent contract with the Cardinals. Sylvester has struggled through 17 pro appearances, but had success in college that can hopefully develop as a pro. Whatever the results, Sylvester is a true large adult son, and for that, he is worth rooting for.
Voit Scale: 3 Voits (Absolute Unit) The current Cardinals system may lack true sultans of beefy pitchers such as Dennys Reyes or Ray King, but the next best thing is developing pitchers the size of persimmon trees.
Luken Baker
Position: 1B
Height: 6'4″
Weight: 265
Age: 21
Current Level: Class A (Peoria Chiefs)
My goodness. Folks, we've had a lot of fun in this article discussing baseball players who are merely big. There are plenty of big baseball players. Occasionally, though, there comes along a baseball player who is just simply looks way too big to be out there, and that is where the real magic begins. In the 2018 draft, the Cardinals added one of these rare lads to their organization by way of drafting Luken Baker. Where to begin with Luken Baker? Luken Baker is not built like a brick shithouse. No, rather, brick shithouses are built like Luken Baker. While I assume the other person in the above photo is a child, it would not surprise me if that was a second basemen who merely looks diminutive in comparison. At TCU, Baker played exactly as you would expect a 6'4″, 265 lb first baseman to play. Simply put, he mashed. He hit lots of taters. He probably also ate lots of taters. In 45 games in pro ball since signing his rookie deal, Baker's power did not yet fully materialize. However, this may only be because Baker has not had the opportunity to break off a bigger tree branch to swing. Or maybe he needs to consult with Babe, his giant blue ox! (This refers to the legendary giant of American folklore, Paul Bunyan, who in the story has a giant blue ox named Babe. The reason I refer to the legend of Paul Bunyan is that Paul Bunyan was a giant, and Luken Baker is also quite sizable. To learn more about famous tales from folklore, visit a local library.) The story of the Cardinals' 2018 draft class has thus far been the hitting phenom Nolan Gorman, there is also much more fun to be had, between our possible next great large adult son Luken Baker, the Backyard Baseball-style wipeout breaking ball of Griffin Roberts, and lest we forget, LARS NOOTBAAR. As for Baker, in a list full of large adult sons, Baker is truly the largest and sonnest of them all. May he mash taters and increase the pants fabric budget of the Cardinals organization for many years to come.
Voit Scale: 4 Voits (oh lawd he comin) A true large adult son to be proud of. The beefiest of boys. The most absolute of units. Luke Voit and his prize hunting knife would be proud.
As always, thanks for reading. If you have any thoughts or disagreements, or you just want to tell me how wonderful of a writer I am and how much you are loving this site, feel free to leave a comment, or hit me up on twitter at @turpin4prez. Please check out some of the fine content from the many talented writers here at this site. Also be sure to check out my wonderful mom's wonderful blog, The Kitchen Wench. Thanks again, and until next time, go Cards!