So far, the 2018 season feels as if it has gone by quickly. Perhaps as a result of starting earlier in the spring, we still are in "spring" baseball, but in reality, we find ourselves just over a quarter of the way through the season, and the critical summer months are shortly ahead of us. The summer months bring us teams truly staking out whether or not they are contenders and the sometimes pivotal changes brought by action and inaction at the trade deadline. It also brings us the storied tradition of the All-Star Game. Although the method of selecting All-Star players has changed over the years, being an All-Star is still viewed by many as the ultimate testament to a player's performance during the first half of the season.
The 2018 All Star Game will be held at Nationals Park in Washington, D.C. on July 17. Even though we are still almost two months away, there are some no-brainer All-Star selections emerging in both leagues, and a great number of fringe candidates that will shake themselves out more before the final selection. Some may say it is too early to be thinking about who should make the All-Star team, and this is a fine argument, but it is ultimately a moot point because fan voting opened this past week. That is why this list is labelled as "kinda" too early: there is a lot of baseball left to play before mid-July, but we have played a quarter season and the availability of fan voting forces the discussion anyway.
By rule, every team will have at least one representative on the All-Star rosters. Even still, the Cardinals could potentially have multiple players receive the honor. Although injuries have unfortunately taken one and possibly two of the most obvious candidates out of play, there is still one clear-looking choice along with a few fringe candidates who have played well enough so far to give them a decent chance to make the squad if they continue to do so. Without further adieu, here is a discussion of these candidates and their cases for and against being All-Stars:
No-Brainers (If Healthy):
Tommy Pham/CF
Stats thus far: .312 AVG, 8 HR, .419 OBP, .951 OPS, 163 wRC+
The case for: Barring a significant injury or a disastrous regression, Pham should be a lock to make the All-Star Game and a contender to be a starter. Between slow starts and injuries that have kept the Cardinals lineup in flux, Pham has been remarkably consistent, serving as an anchor for the rest of the hitters. His offensive numbers show that he is about as well-rounded of a hitter as there is at his position in all of baseball, having the rare trait of being good at several offensive abilities and not having any glaring flaws. Beyond that, Pham has been a stalwart at the premium defensive position of center field. Defensive statistics are unreliable over such a short period of time, but the eye test is enough to make this obvious; although he does not get the press for his defense as someone like Albert Almora who makes flashy diving catches, Pham has plus speed and takes as good of angles to the ball as any center fielder in the game, making diving catches simply unnecessary. Finally, Pham's inspiring personal story and unique personality endear him to both fans and his colleagues around baseball. He has stiff competition to be a starter at center fielder in Odubel Herrera and A.J. Pollack, the NL corner outfield positions are not as strong, minus Bryce Harper. With all of these factors in mind, Pham should be considered a shoe-in at this point to make the All-Star squad in some capacity.
The case against: There really isn't one. He is not a lock to be a starter, but unless something significantly changes, it will be a travesty if Pham is not an All-Star for the first time in 2018.
Carlos Martinez/SP*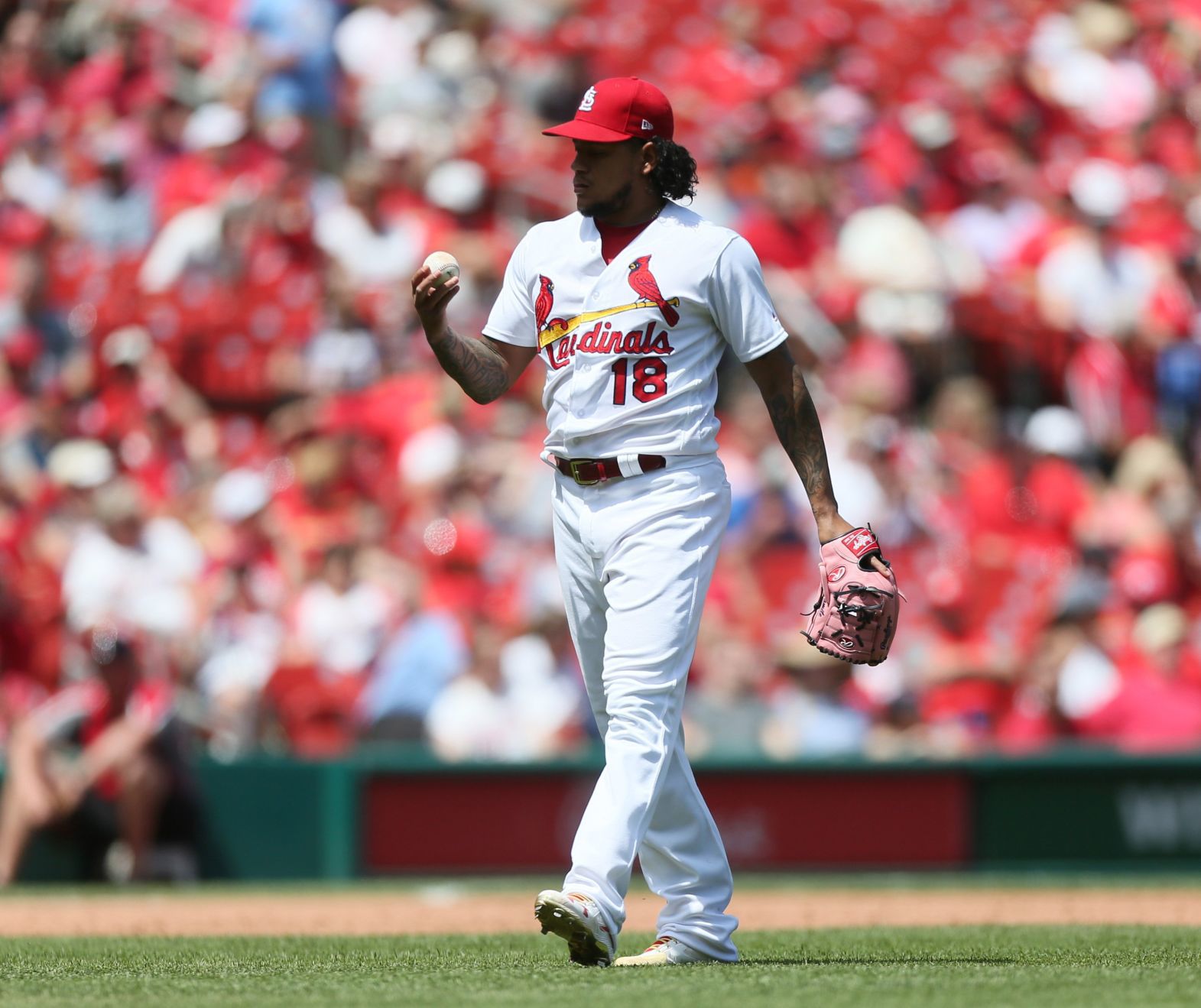 Stats thus far: 3-2, 1.62 ERA, 3.38 FIP, 4.35 xFIP, 8.46 K/9, 3.96 BB/9
The case for: When healthy this season, Carlos Martinez has been awesome. El Gallo had a rough first outing on Opening Day in New York, having trouble repeating his delivery. His next 6 starts, though, were masterful. In each of those 6 starts, he went at least 6 innings and gave up a total of only 3 runs, with never more than 1 run in each start. In two of those starts, Carlos reached the 10 strikeout mark. It was a run that further solidified that he is truly worthy of the "ace" status of the Cardinals that some fans foolishly question if he deserves. His last outing, against Minnesota, did not go as well, and after that start it was revealed to the surprise of Cardinals nation that Carlos was dealing with a lat injury and was headed to the DL. There was plenty of concern over how long this injury would keep Carlos out, but the good news is that the most recent update shows that Carlos may only be sidelined for a couple weeks. Although some of his advanced stats (mainly his xFIP) have not been as good as what we usually see from Carlos, his ERA was the best among qualified starters in baseball at the time of his injury, and by any measure, his streak of dominance and his dependability have made Carlos an easy All-Star candidate if his health cooperates.
The case against: ….IF his health cooperates. This is why I attached an asterisk to this section, because Carlos WOULD be a no-brainer, but his injury situation now puts that in jeopardy. Carlos's current injury problem hurts his candidacy in two ways. First is that even if Carlos comes back as soon as the team hopes, which is no guarantee in and of itself, it is hard to know if he will be as effective as he was during that fantastic 6-start streak. This concern would be true of any pitcher dealing with a lat injury, but there is a good argument that this is especially true of a pitcher like Carlos. Although some unfairly chalk up his occasional inconsistencies as Carlos "getting mad" or "being emotional," the truth is that when Carlos does struggle it is because he has trouble repeating his delivery, which in turn hurts his command. We saw this in New York on Opening Day, where Carlos's delivery got very loose and he could not pinpoint his pitches like he wanted to. It is not a certainty that the lat injury will increase the risk of these types of outings if he returns, but it is worthy of concern at least. The other problem is that the injury, especially if it lingers longer than the Cardinals are currently thinking, is going to cost him some starts regardless. There is a strong crop of potential starting pitcher candidates for the NL squad, and losing a handful of starts while those others continue to pitch may hurt his case.
Paul DeJong/SS*
Stats thus far: .260 AVG, 8 HR, .351 OBP, .857 OPS, 128 wRC+
The case for: Recent Cardinals shortstop history has been a story of the team's intended "the guy" at the position falling apart, but there being another unheralded shortstop who unexpectedly fills in to become a respectable starter. In 2016, Jhonny Peralta's production bottomed out after what had been a very good stint with the Cardinals, but Aledmys Diaz was there to take his spot and had a fine year. Last year, the Cardinals went into the season intending for Diaz to be the starter, but Diaz did not look to be what he once was. Fortunately, in stepped Paul DeJong, a former draft pick out of Illinois State. DeJong went on to hit 25 home runs in 108 games while being solid at defense. This past offseason, DeJong, who holds a degree in biochemistry, studied the science of baseball with some apparently real guy named Dr. Larry Rocks to try and improve his game. This year, DeJong has thus far improved on what had truly been a dismal walk rate last year. His strikeout rate is still much higher than what the Cardinals would like, but the power has not wavered, with 8 so far in 2018. Thanks, Dr. Rocks! DeJong is still definitely a "feast or famine" type of hitter, but he is incredibly dangerous when he gets on a roll. As much as I'm intrigued by Max Schrock, as are the fine folks at both Fangraphs and Viva El Birdos, it looks as though we will not be continuing the shortstop carousel in St. Louis any time soon. What else helps his case is the current lack of elite shortstop production in the National League. If DeJong had not gotten injured, he would at this point be in the driver's seat to be the NL starter at shortstop, with Trea Turner, Brandon Crawford, and perhaps Trevor Story looming behind. DeJong's 128 wRC+ is the highest of qualified NL shortstops by a considerable margin, and his 8 home runs are the second-highest behind only the aforementioned Story. Even with a couple of rough patches, DeJong has been the best of the best among NL shortstops in 2018.
The case against: Again, notice that DeJnog's heading also includes an asterisk. On May 18, DeJong underwent surgery on a fracture left pinky that he suffered after being hit by a pitch. Given the fact that the fracture was significant, it seems likely that he'll miss a good deal of time, and there is nothing that Dr. Rocks can do to fix THAT problem. The exact timetable has not been set, but it does not look good for the early part of the summer. Losing Paul DeJong hurts the Cardinals. as our own John Jones discussed, and it also hurts his All Star chances. If this injury had happened a month later, he may get voted a starter by Cardinal nation, get the distinction, then simply have to be replaced. However, missing a lot of time will allow other shortstops to surpass him and may even make himunable to play in the game anyway. It is unfortunate, as he looked to be a no-brainer pick before the injury. If it's any consolation, DeJong has a starting role with the Cardinals for the foreseeable future and should have plenty of other chances, especially with most of the shortstop star power concentrating in the American League.
Distinct Possibilities:
Luke Weaver/SP
Stats thus far: 3-3, 4.37 ERA, 3.33 FIP, 4.28 xFIP. 7.99 K/9, 3.23 BB/9
The case for: At times this season, especially early on, Weaver has looked like a breakout star for the Cardinals. Although he was not pitching into deep into games, in his first 3 starts, Weaver only gave up 4 runs while striking out 17 batters and only walking 5. Things took a turn for the south after that, however, when a BABIP-ruined April 19 start against the Cubs wherein Weaver gave up 6 runs over 4 innings kicked off a 4-game stretch wherein he gave up 18 runs and only made it into the 5th inning once. Weaver's most recent two starts have been more encouraging, pitching 5 shutout innings against the Padres then 7 innings of 1-run ball against the Phillies (although the Cardinals would lose that game). Ultimately, Weaver's case is going to hinge on whether he manages to keep from falling back into a funk before mid-July. This is the inherent problem with trying to analyze the All-Star cases of starting pitchers in late May; they simply have not made all that many starts, and there are a ton of guys like Weaver who have been good at times but are not clear-cut. The point is, though, that Weaver has during part of the early season pitched like an All-Star, and if he truly is back on the track he appeared to be in his first few starts, he'll have a solid candidacy.
The case against: Unfortunately for Weaver, that rough stretch was very rough and lasted several starts. At this point, he has 5 good starts and 4 bad starts, which in those terms, does not sound like a very compelling case to be an All-Star. Although he has done enough to look like he could make it if he has a good couple months, he does not have as much cushion as some other guys do. Max Scherzer is the only NL starter who has been eye-poppingly good so far (although Jacob deGrom is not far behind), but there are also a whole host of starters who have been good but not great, meaning Weaver is going to have to do even more to separate himself. His case at this point is all about potential, which gives him a chance, but also makes him a riskier bet. The fact that he is young and un-established also cuts against him. Pitchers are chosen for the rosters by a combination of fellow players and the manager (Dave Roberts this year), so if it comes down to a tough decision between Weaver and a more proven veteran starter who has pitched similarly well, Weaver is less likely to get the nod. At the end of the day, Weaver has done enough to give himself a chance, but he simply has more to prove than a lot of other NL starters whose overall results have been similar.
Miles Mikolas/SP
Stats thus far: 6-0, 2.24 ERA, 3.29 FIP, 3.15 xFIP, 6.86 K/9, 0.90 BB/9
The case for: When the Cardinals signed Miles Mikolas, a pitcher who flamed out in the majors a few years ago then found some success with the Yomiuri Giants in Japan, plenty of people scratched their heads. This concern was not alleviated after a rocky start to Spring Training. In the regular season, though, Mikolas has been a revelation for the Cardinals, finding success with an approach completely re-tooled from the flamethrower teams wanted him to be in his first MLB stint. Hooray for scouting! (And boo for Spring Training overreactions!) The Lizard King gave up 4 runs in each of his first two starts, but since then has only given up 8 runs over 8 starts and has been an innings-eater for a good chunk of that run, including a complete-game shutout last night. What has really been striking, though, is his precision. The guy just never walks anyone. Last night, the penultimate batter received the first walk Mikolas has thrown at home all season. Not only that, he rarely ever even gets to a 3-ball count: at one point in late April, he faced a crazy 39 batters in a row without reaching a 3-ball count. Although the Cardinals rotation has not dealt with the roller coaster ride the starting lineup has, there have been some ebbs and flows, and through it all, Mikolas has proven to be a stalwart. Additionally, his skills are the type that his peers and managers appreciate, and his intriguing redemption story bolsters his case even further. As previously discussed, there are a lot of NL starters who have been good but not great with only two that have truly been great, so there will be a lot of competition for those spots on the All-Star roster. However, if Mikolas can continue his surprising success and keep up his amazingly low walk rate, he'll be a solid candidate.
The case against: Mikolas is a really interesting All-Star candidate, but his biggest enemy is going to be the amount of competition for those starter spots on the NL squad. Scherzer and deGrom are probably locks barring injury, and there are at least 10, probably closer to 15, other starters who have played well enough so far to put themselves in the conversation. Some of those pitchers are guys such as Noah Syndergaard, Zack Grienke, and Gio Gonzalez, all of whom carry the star power that may give them more benefit of the doubt than someone like Mikolas. The rosters will also have a handful of relief pitchers, and a bunch of relievers in the NL have pitched well enough to merit consideration. Mikolas's story will be intriguing no matter what, but if he continues to be good-not-great and doesn't keep up his fantastic walk rate, he'll have a harder time sticking out from the crowd.
Bud Norris/RP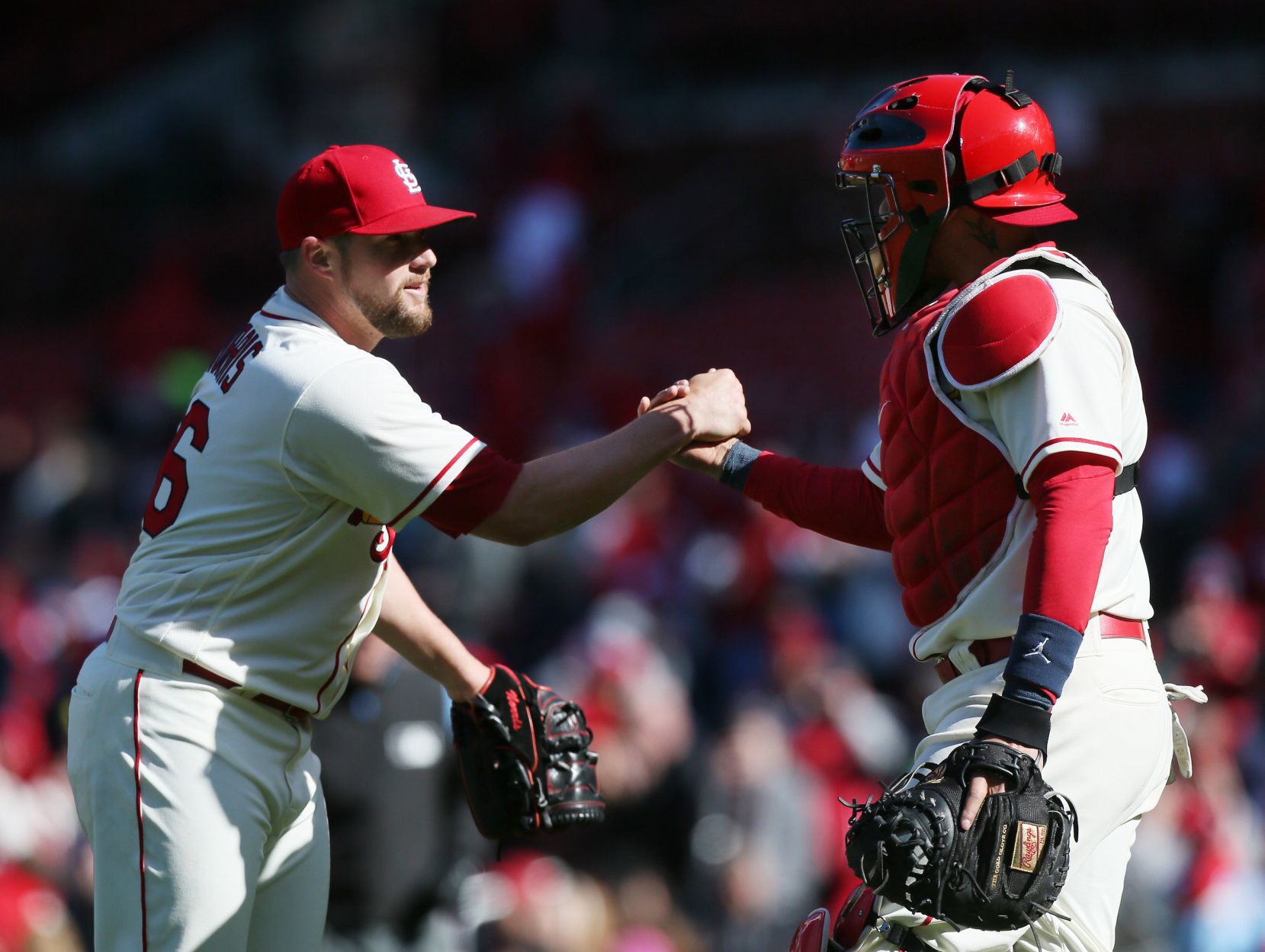 Stats thus far: 9 SV, 2.01 ERA, 1.62 FIP, 2.19 xFIP, 12.49 K/9, 1.61 BB/9
The case for: The signing of Norris during Spring Training was thought to be fairly inconsequential. Few took seriously the idea that he would start, but those who were familiar with his solid work as a reliever for the Angels in late 2017 figured he could compete for one of the last bullpen spots. The idea of a "closer" as traditionally thought of is antiquated, does not put the best pitchers in the best positions to succeed, and should not still be utilized by any sufficiently forward-thinking manager, but alas, this is Mike Matheny we're talking about (currently working on a piece about this, just FYI). At the time of Norris's signing, Luke Gregerson was thought to potentially be the closer, after at one point thinking it may be Dominic Leone. On Opening Day, the signing of Greg Holland (ugh) made it clear the goal was for Matheny to utilize Holland in the closer role (we've discussed on this very blog why this was an ill-advised idea). During all these changes, it was never thought of that the closer would be Bud Norris, who barely even made the roster. Well, between a Luke Gregerson injury, whatever the heck is going on with Greg Holland, and Matheny finding a role he likes better for Leone, Norris stepped up into the closer role. Although I can go on and on complaining about bullpen management and the idea of the "closer," but by any measure, Norris has pitched very well out of the pen late in games for the Cardinals this year, and has been a stalwart through all the issues the bullpen has had. Both his basic stats and his advance stats back this up. Between the intangible factors and the stats, Norris is unquestionably a candidate to be one of the relief pitchers added to the NL roster.
The case against: Much like Mikolas and Weaver, heavy competition is the biggest problem with Norris's candidacy. Norris has been good, sure, but so have Wade Davis, Brad Hand, Jeurys Familia, Josh Hader, Brad Boxberger, Brandon Morrow, Felipe Vasquez, Sean Doolittle, Raisel Iglesias, and Adam Ottavino. Some of these names will shake themselves out, but with only a few places for relievers on the NL roster, how will Norris separate himself from the crowd? Something that may hurt him with the player vote is that his really dumb comments about Latin players in late 2015 probably haven't exactly endeared him to his peers. Bygones may be bygones by now for a lot of players, but when the race is going to be so close, even a few understandably upset fellow players could cost him. Bringing this back around to Matheny, the fact that his manager does not put his relievers in the best positions to succeed could also wind up hurting Norris. Several times this season already we have seen an 8th inning pitcher struggle and Norris be brought in early to go for the long save- because that's what closers do, after all! So far, this has not been much of an issue for Norris, but it does mean he stays in the game longer, which will always put him at greater risk of staying in too long, which not only makes it likelier his outing will turn sour, but also may increase the odds that he has to deal with fatigue and small injuries. Like his fellow Cardinals pitchers Weaver and Mikolas, Norris has done well enough that he will continue to be in the conversation for the All-Star Game so long as he keeps it up, but also like Weaver and Mikolas, his biggest hurdle will be separating himself from the competition
May be Discussed, But Unlikely
Jose Martinez/1B
Stats thus far: .313 AVG, 5 HR, .383 OBP, .864 OPS, 129 wRC+
The case for: Jose Martinez is the latest reminder that Cardinals Devil Magic is not dead. Martinez was once a left fielder toiling away in the White Sox then Royals system. He stood 6'7″ but hit for no power. In 2016, during his his tenth year as a minor leaguer, the Royals, who at that point were at least still pretending to be a competent organization, quit on Martinez, designating him for assignment. The Cardinals swooped in, acquiring Martinez for cash considerations. Again, hooray for scouting! Since then, Martinez has been a revelation for the Cardinals. Our friend Tanner Puckett at Viva El Birdos wrote a good analysis on how Martinez has re-tooled his approach. In 2017 he worked his way onto the Opening Day roster as a rotational player (over a highly-deserving Tommy Pham, but let's just forget that part) and this season he earned the every day spot at first base. This season, he has shown the contact skills his optimistic projections expected from him, along with respectable if not elite power. Along with fellow long-time minor leaguer Tommy Pham, Martinez has been one of the few consistent sources of production in the Cardinals lineup. This along with his inspiring story may earn him some discussion locally about All-Star consideration.
The case against: Martinez has three problems with his All-Star candidacy. The first is that while his play at the plate has been undoubtedly good, it has not been so great as to make him a surefire candidate to make the NL squad. The second is that his defense at first has been unpleasant to watch. Martinez, despite his large frame, is truly a left fielder by trade and starts at first out of necessity. Martinez trying to play defense at first base in the majors resembles me trying to play defense at first base in rec league softball: no real natural skill to speak of, but tall and lanky enough and has a big enough glove to occasionally get the job done. The bigger issue is that Martinez's sometimes flat-out ugly defense at first has been costly at times, even though his offense has been a necessary presence in the lineup. The third problem is that the competition at his position in the NL is quite strong. Brandon Belt and Freddie Freeman are both off to tremendous starts for the Giants and Braves respectively. Not only is there this star power, but the every-team-must-be-represented rule comes into play. Somebody from the Reds and Padres have to make it, and their respective first basemen happen to be decent candidates to be those somebodies (Joey Votto because he is legitimately great, Eric Hosmer more so because the Padres lack other players who even resemble All-Stars). Unless Martinez gets really hot over the next couple months, it is unlikely that he will be able to force his way into the conversation.
Jordan Hicks/RP
Stats thus far: 2.05 ERA, 4.91 FIP, 6.09 xFIP, 3.68 K/9, 6.55 BB/9
The case for: Hicks's case begins and ends with the fact that it is fun to watch the baseball fly out of his hand towards home plate. If you look at a leaderboard of all the fastest pitches throw in MLB this year, Hicks has thrown pretty much all of them. On Sunday, Hicks threw 105 MPH. TWICE. Not only is he throwing straight heat, his slider makes me faint onto a couch like a fancy Victorian-era woman. His stuff is some of the most intriguing in the sport, and he has been a useful force out of a Cardinals bullpen that has seen its ups and downs this season.
The case against: Ok, entire articles could be written about the Jordan Hicks situation, and it gets debated on twitter daily, so I won't turn this into a thorough analysis because nothing I would say is anything new. Bottom line, Hicks bewilderingly is not missing many bats despite throwing triple digits. What this means is that he could wind up being an eventual regression nightmare. His 2.05 ERA will catch the eye of some, but his 4.91 FIP and 6.09 xFIP are startling. That seems like a huge discrepancy, but when your K/9 is only 3.68 and your BB/9 is 6.55, that's what you get. Now, here we have an instructional instance on the use of advanced stats vs more basic results-based stats such as ERA. Hicks has no doubt gotten the job done for the most part, as he is not allowing many runs. What that discrepancy means, however (and herein lies the relevance to his All-Star case) is that unless he starts missing bats, this is all but guaranteed to catch up with him. By mid-July, it is an incredibly risky proposition to say that Hicks will be able to sustain his productivity walking as many as he is and striking out as few as he is. This is, of course, not to say that Hicks is doomed as a prospect by any means. He is still very young and made a significant leap to the majors. Some eventual time in the minor leagues could help figure this problem out (my personal preference is to keep developing him as a starter) but it is unlikely this will happen until the rest of the bullpen solidifies further or unless Hicks suffers a collapse. Everyone should feel free to enjoy the fun while it lasts- and boy howdy, is it fun- but also keep in mind that the inability to miss bats despite throwing electric stuff is what kept Joe Kelly from ever becoming a star. The other problem with Hicks's case, as discussed in the Bud Norris section, is that the competition for NL relief pitchers is very strong. Not only is Norris doing very well on Hicks's team and not only are some of the usual names like Wade Davis and Jeurys Familia earning consideration, other relievers such as Felipe Vasquez, Brad Boxberger, Adam Ottavino, and Josh Hader (the owner of a freaking 18.44 K/9) are emerging with great seasons of their own. All in all, we should enjoy Hicks for what he is and the record-setting heat he has thrown, but his All-Star case, for multiple reasons, is likely a long shot in 2018.
TURP'S PICKS
There is a lot of baseball left to play, and many things can change between now and mid-July. If I have to make an educated guess about the Cardinals' representation in the All-Star Game, though I predict St. Louis will be represented in D.C. by 3 players. Tommy Pham is an easy pick. I'll also be optimistic and predict Carlos Martinez will come back timely enough and strongly enough that he will find his way onto the NL squad as well. DeJong's injury will keep him out long enough that he will unfortunately miss his chance. Of that next group of 3, I predict that Miles Mikolas will keep up his remarkable efficiency enough that he'll get one of the last pitcher spots. Luke Weaver will get back mostly to his winning ways, but his rough patches will hurt him. He won't make the initial roster, but will get consideration to fill in for injuries. Bud Norris will not beat out the rest of the stiff competition for relief pitchers, but will also be in the conversation if injuries replacements are needed. 3 players would be the most Cardinals in the All-Star game since 2015 when six Redbirds appeared, and will continue their streak of having at least two representatives every year since 2008.
Hopefully you enjoyed this look ahead to this year's All-Star game, and if there are any particular players you want to see in D.C., All-Star voting is now open, so make sure to cast yours! Please check out the fine content of the rest of this here blog, feel free to leave a comment or shoot me a tweet @turpin4prez, and for some fine down-home Midwestern recipes, check out my mom's blog The Kitchen Wench. Thanks for reading!